Great food is not necessarily expensive, there are some Michelin recommended restaurants in Bangkok that you can go causally without spending a fortune.
One Michelin Star
The iconic crab omelettes – Jay Fai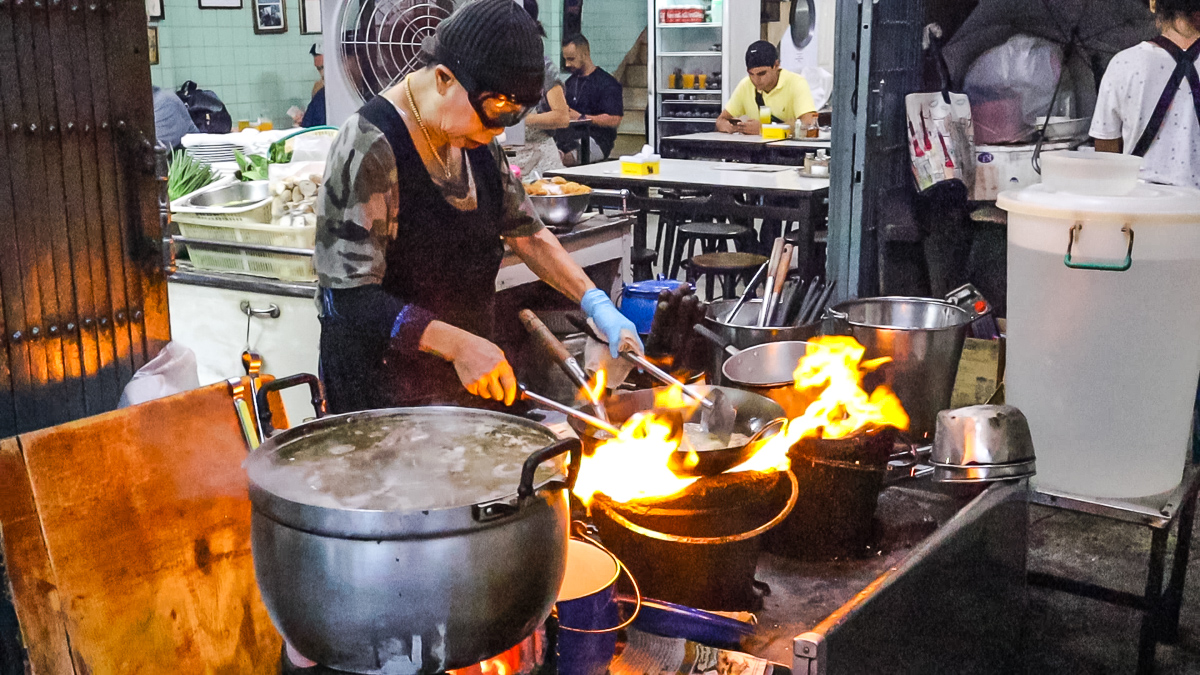 The only food stall that is nominated as One Micheline Star, and for 3 consecutive years! Their signature meaty crab omelette is a must-eat that everyone is willing to wait for. Other than that, the Michelin guide also recommended their homemade prawn cake, crab stir-fried with aromatic yellow curry, and of course, drunken noodles (stir-fried noodles with seafood).
Address: 327 Maha Chai Rd, Khwaeng Samran Rat, Phra Nakhon district, Bangkok 10200
Opening hours: Tue – Sat 14:00 – 00:00
Tel: 092 724 9633
email:jayfaibangkok@gmail.com
It is highly recommended to reserve before you go, or you may need to wait for up to 3 hours during peak time.
Average spending: 400-1000THB per person

Bib Gourmand
Simplicity at its finest – Guay Tiew Mu Rung Rueang
This little food stall serves only simple ground pork noodles with fish balls. Simplicity at its finest, this food stall offers very limited choice – a few types of soups and noodles, but delicious enough to be nominated on Michelin Bib Gourmand.
Address: 10 3 Sukhumvit 26 Alley, Khwaeng Khlong Tan, Khlong Toei district, Bangkok 10110
Tel: 02 258 6746
Opening hours: Mon-Fri 8:30-16:30
Average spending: 50-100THB per person

The country's comfort food – Sae Phun
The signature dish of this Michelin Bib Gourmand restaurant is surprisingly simple – chicken stew on rice. However, this simple dish which has been served for over 80 years can remind you the taste of childhood – generous chunks of stewed chicken served over cooked rice and topped with a fried egg and a side of Chinese sausage (goon chieng).
Address: 112 Thanon Mahannop, Khet Phra Nakhon district, Bangkok 10200
Tel: 061 994 7171
Opening hours: Mon – Fri (except Wed) 07:00-15:00, Sat 07:00-18:00
Average spending: 50-120THB per person

Crispy pork belly – Guay Jub Mr. Joe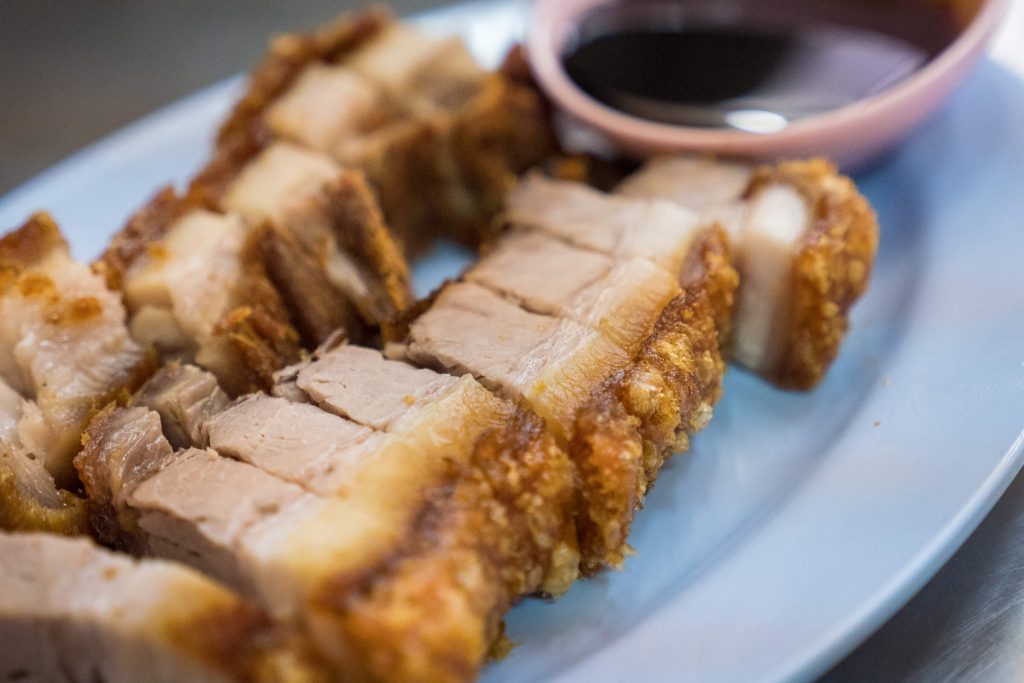 Although the dish Guay Jub (rich broth with sprinkled pepper, with wide and thick rice noodles) is the main dish of this restaurant. The real reason everyone eats here is because of their insanely crispy pork belly. Order a combo –  a bowl of noodles and a side of pork to match is what Micheline recommended.
Address: 313/7 Soi Chan 42-44, Wat Phraya Krai, Bang Kho Laem, Bangkok 10120
Tel: 02-213-3007
Opening hours: 8:30 – 16:30 everyday
Average spending: 55-60THB per person
Tender stewed pork leg – Charoen Saeng Silom
This little food stall hidden in Silom – a bustle business district, is always packed with hungry office workers. Their tender stewed pork leg is the reason why they are nominated on Michelin Bib Gourmand for 2 consecutive years. Just order the braised pork over rice, or go for the entire leg if you are a meat lover!
Address: 492/6 Charoen Krung 49 Si Lom, Suriya Wong, Bang Rak district, Bangkok 10500
Tel: 02 234 8036
Opening hours: 8:00 – 14:00 everyday
Average spending: 40-240THB per person

Cooked by charcoal fire – Ann Guay Tiew Kua Gai
"Guay Tiew Kua Gai" which means fried rice noodles with chicken, is the signature dish of this restaurant. This simple dish is described as 'crispy-on-the-outside, soft-on-the-inside noodles' by the Michelin Bib Gourmand guide. What does the magic is the large wok heated over a charcoal fire which gives a taste of 'wok-hei' and unique texture to the dish.
Address: 419 Luang Rd, Khwaeng Wat Thepsirin, Khet Pom Prap Sattru Phai, Bangkok 10100
Tel: 02 621 5199
Opening hours: 16:00 – 01:00 everyday
Average spending: 50-150THB per person

Eatery without menu – Chakki
This family-run eatery has been serving the locals for 30 years and does not have a menu – everyone is here for their famous deep-fried wontons or deep-fried rice noodles and beef topped with gravy. Although they have an official opening hours, all their regular customers know the shop will be closed as soon as the dishes are sold out.
Address: 1/35 Ratchawithi Rd, Khwaeng Thanon Phaya Thai, Khet Ratchathewi, Bangkok 10400
Tel: 02 245 0849
Opening hours: 11:00 – 15:00 everyday
Average spending: 80-160THB per person

Secret eggy sauce on beef – Elvis Suki (Soi Yotse)
Elvis Suki has been following the same recipe of their suki noodles for 30 years. You may choose between chicken, pork, vegetarian or seafood, dry or with soup. While the Michelin guide inspector recommends having it dry with beef. Their secret eggy sauce, smoky aroma from the coal stove and perfectly cooked beef is to die for.
Address: 200/37 Soi Yotse, Phlapphla Chai Road, Bangkok 10100
Tel: 02 223 4979
Opening hours: 17:00 – 23:00 everyday
Average spending: 40-100THB per person
Michelin Plate
Wattanapanit (Ekkamai)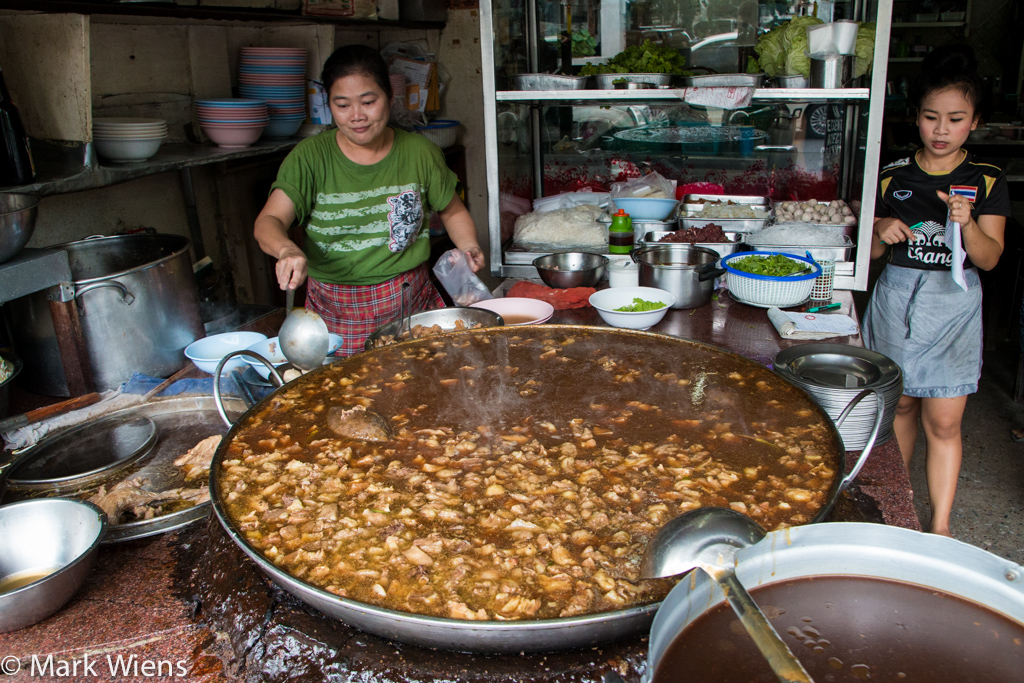 One of the oldest beef stew restaurants in Bangkok, this little shophouse is loved by locals and office workers nearby. Be prepared to wait if you get there during lunch hours, but you will find their stewed beef with soup and noodles is worth waiting for.
Address: 336, 338 Ekamai Rd, Sukhumvit 63 Khwaeng Khlong Tan Nuea, Khet Watthana, Bangkok 10110
Tel: 02 391 7264
Opening hours: Mon-Sat 8:00-19:30
Average spending: 50-200THB per person

Jok Khlong San
Jok Khlong San is known for its mhoo deng, or literally translated as bouncing pork (minced pork balls). Their dense and heartwarming Thai style congee is perfect for a late night treat. A bowl of rice porridge with pork, and an assortment of eggs (choose from eggs, salted eggs to century eggs) would do the trick.
Address: Suk San Village 6, Soi Kanchanaphisek 5/1, Kanchanaphisek Road, Bangkok 10160
Tel: 092 652 4056
Opening hours: 16:00-23:00 everyday
Average spending: 35-60THB per person