Spa is definitely one of the must-do in Koh Samui, with so many choices to struggle with, we have picked for you the 5 best spa in Koh Samui catering for different needs and preferences.

A half-day recharge- Tamarind Springs Forest Spa
If you are a spa lover, you will not want to miss this very unique spa experience here. This multiple spa award winner brings you the tropical paradise in reality. Pictures are not allowed in heaven, so be prepared to surrender your phone and camera and enjoy a half-day in this heaven blended with nature.
The spa package here usually takes about 4 hours that split into 2 parts – Enjoy yourself in natural pools and herbal steam caves for about 1.5 hours; Take a brief rest with some light refreshments and; End your journey in heaven with a 2.5 massage or facial treatment of your choice.
Reference price: Forest dreaming (4 hours package) 5,500THB

Best value – Let's Relax Spa
Let's Relax Spa is known for the best CP value luxury spa in Thailand. Located in the downtown of Koh Samui, Let's Relax Spa offers a relaxed modern ambiance with authentic Thai massage. Complimentary mango sticky rice with tea will be served at the end of the treatment, which gives an extra mark to this urban spa experience.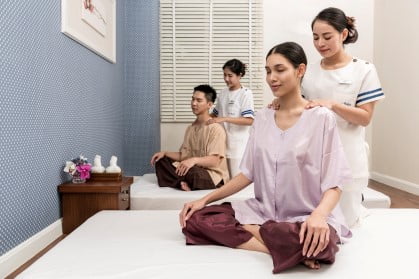 Reference price: Thai massage (2 hours) 1,100THB

Best known spa in Koh Samui – Eranda Herbal Spa
Among countless spa in Koh Samui, this stand-alone facility, Eranda Herbal Spa is the most discussed one. Set in more than 7000 sqm of a beautiful mountainside, Eranda Herbal Spa offers a wide range of spa treatment with their own herbal products. The spa offers free shuttle bus service from downtown areas, saving you from the hassles of transportation.
Reference price: Samui sensation package (2.35 hours) 3,400THB

Luxurious sea view – Anodas Spa
The luxurious sea view is one of the highlights of Anodas Spa. The floor-to-ceiling windows at each massage room allow you to enjoy the spectacular panoramic ocean views during the spa experience. A range of Thai herbal ingredients and organic, botanical products were used in their treatments. This spa offers many treatment packages to choose from, including one specially designed for men.
Reference price: Refreshing by Anodas package (2.5 hours) 3,000THB

A spa with sea breeze – Swasana Spa
Swasana spa offers its spa treatment at both indoors or outdoors at the beach. You can enjoy a massage at a private open air pavilion, healing yourself with all your five senses invoked by the sea. The use of pure natural ingredients, professionally trained therapists and a wide selection of soothing packages will surely fulfill all your expectations for spa experiences.
Reference price: Rejuvenating package (2 hours) 2,995THB